Web Design


Web design
Web Design, CMS, Intranets, Extranets, Usability
We understand that a website does not only need to be accessible by your target audience, but that it needs to appeal to them visually. When it comes to websites, you can judge a book by its cover! Understanding your business is our first step to delivering a website that ticks all the boxes. We take the time to listen to your ideas and provide the guidance and advice to create a rewarding online experience for your customers and clients.

Web hosting
Reliable web hosting with lots of benefits
Although we offer cheap web hosting, we don't compromise on quality. All our servers are hosted in a state-of-the-art UK data centre, so you get all the benefits of UK web hosting and plenty of support for your web hosting account. Our range of web hosting plans have been designed to suit all budgets and requirements, so whether you're looking for cheap web hosting or the ultimate in professional web hosting, we have something to suit.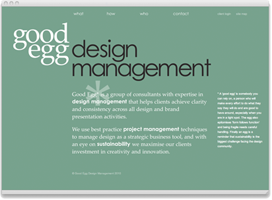 Good Egg Design Management
CMS/HTML/jQuery
Good Egg had the design, AffinIT developed it.
We used a CMS for the Good Egg people to update the content and incorporated their custom fonts too.
Think FF+E
HTML/jQuery
The Good Egg people approached AffinIT to implement the Think FF+E website, a clean and fresh style with plenty of jQuery to catch the eye.